Fashion often takes itself very seriously. Maybe too seriously. But that's not the case for KidSuper.
Yesterday, at the Casino de Paris, the kings of stand-up are putting on a show at the KidSuper fall-winter 2023-2024 fashion show, founded by American designer Colm Dillane.
The excitement for Colm Dillane's KidSuper FW23 performance was so great that chaos erupted outside the venue. The entrance was overrun by hundreds of people eager to see the comedy show. Even rapper Kodak Black, and Emily in Paris star, Lucien Laviscount struggled to get in.
After the tumultuous storm, the atmosphere in the Casino de Paris has finally calmed and those who managed to enter have taken their seats. The much-awaited "Funny Business" show, which was two hours behind schedule, arrived just in time to put an end to the final day of Mens Fashion Week with a good dose of laughter.
Hosted by Tyra Banks, the show consisted of a series of comedic monologues, featuring Yvonne Orji, Jeff Ross, Stavros Halkias, Andrew Santino, Matteo Lane, Theo Von, Fary, J.Balvin and Andrew Schultz, who also showcased their fashion collection.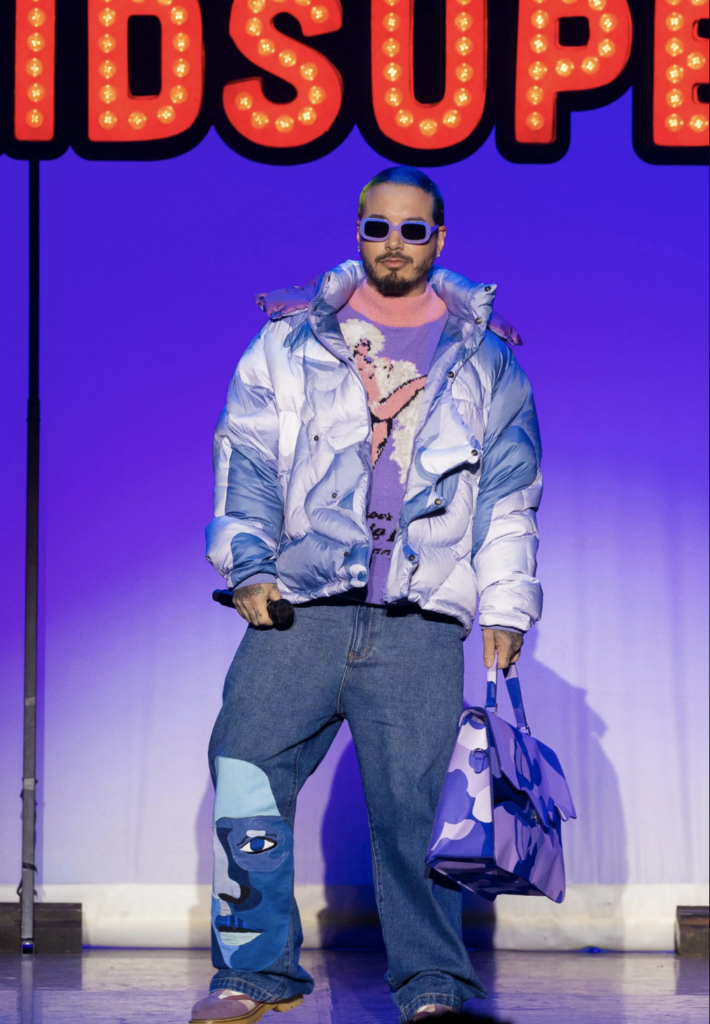 The humor was of all kinds, from fat jokes to gay jokes, women jokes, French and Italian jokes, and the speakers didn't hold back on any topics, even addressing the hottest fashion brands like Balenciaga and Alexander Wang. Some may have felt that the jokes went too far, but the speakers clearly weren't afraid to push boundaries.
The collection expertly showcases KidSuper's signature style, incorporating art, vibrant colors, patterns, and collages into a range of clothing items, including classic streetwear and his recognizable animated tailoring and coats. It also previews two upcoming collaborations with PAUER jewelry and Stuart Weitzman footwear.
Colm brings magic and wonder to a world in need of more joy and inclusivity. His infectious and illuminating energy has powered a meteoric rise in the worlds of fashion and creativity.