Just a few weeks prior, the fate of the highly-anticipated public event was sealed in a mere 90 minutes – the time it took for tickets to sell out.
As the first day of fashion week dawned, a tidal wave of dedicated Diesel enthusiasts descended upon Milan, all eager to witness the highly-anticipated SS23 show at the Allianz Cloud Arena.
The iconic Diesel emblem adorned every corner of the stadium. As the crowd was a fiery sea of Diesel-clad fashion enthusiasts, eagerly awaiting a glimpse of Creative Director Glenn Martens' latest collection, alongside some vintage gems, all set against a striking backdrop of rich, blood-red hues.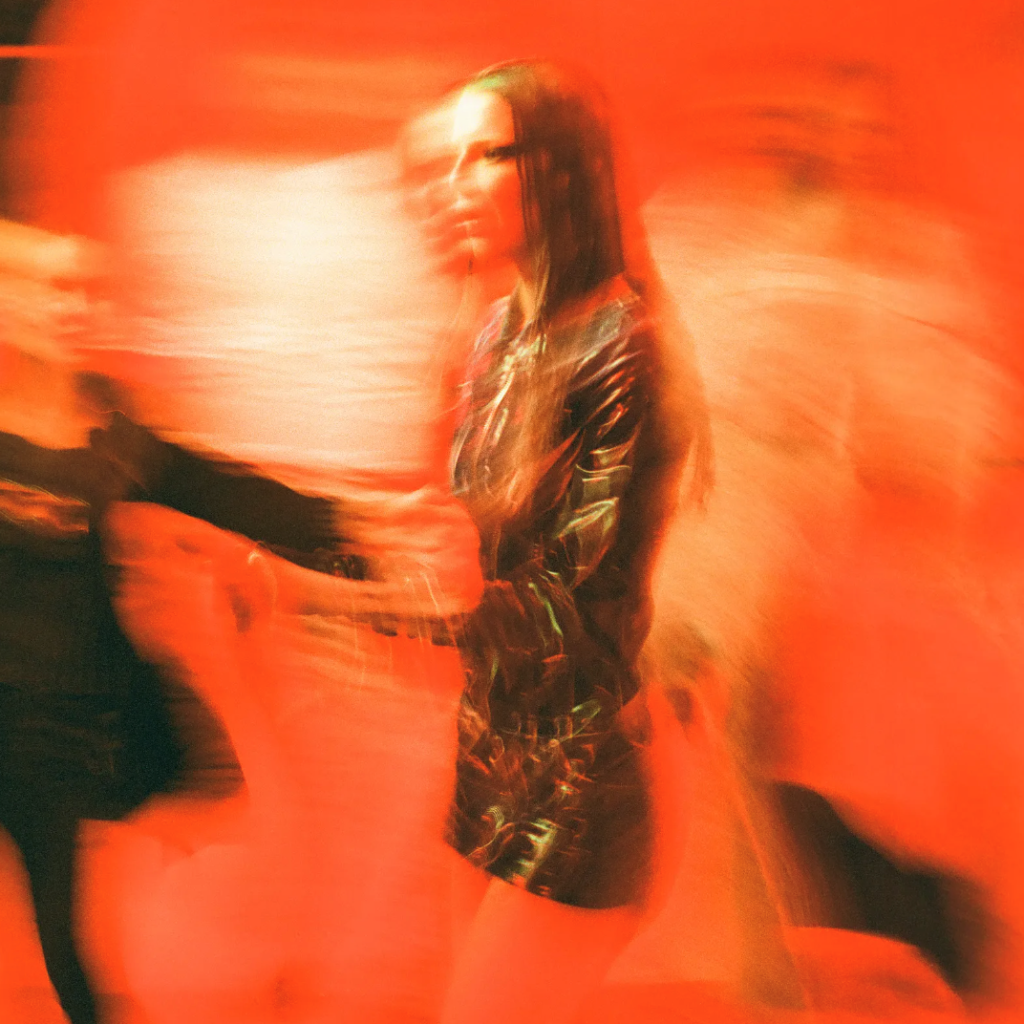 "The goal is always to be the opposite of luxury and to be an inclusive brand," Martens stated after the show, which was only his second since he took over Italy's rebellious denim brand at the end of 2020. As Fox observed the scene backstage, where fresh-faced models and young supporters were embracing and applauding, she summed up how successful Martens has been. Fox commented that Martens has effectively connected with the younger generation through Diesel and said. "We love to see it."
Diesel, under the direction of Martens, came at just the perfect time as a generation that's beginning to come out of the pandemic restrictions began to explore themselves and their taste for the more eccentric and radical side of fashion. Julia Fox, a key figure in fashion, is not just frequently photographed but people desire to dress like her, bold and alluring. Fans of fashion follow it like sports fans follow their favorite teams, and the Diesel show is sure to be the highlight of the week.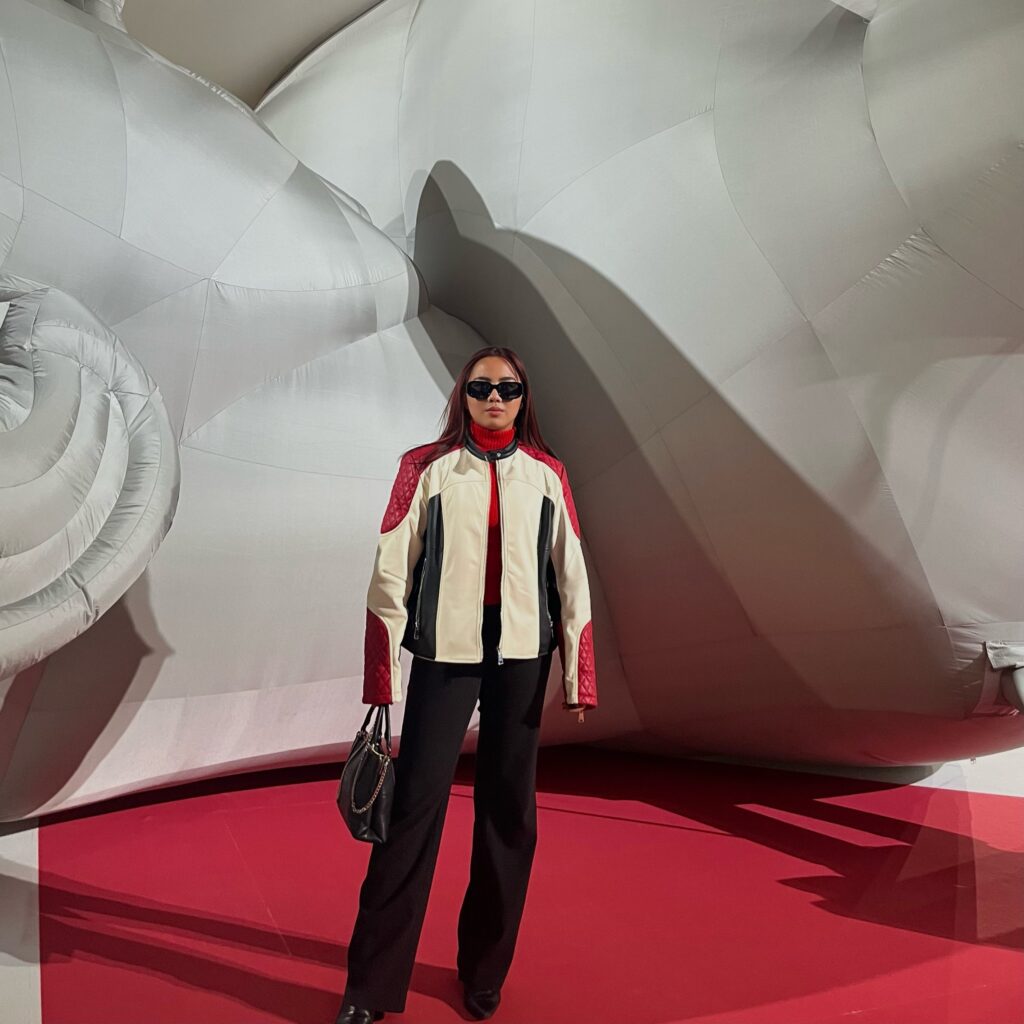 As guests entered, they were met with a comical and absurd inflatable sculpture of multiple figures in sexually entwined positions, with limbs going every which way. The large screen displayed a message claiming it to be the largest inflatable of its kind in the world and holds the Guinness World Record for the largest inflatable artwork ever created. The show invites even included a glass butt plug. For the more conservative, it's best to look away.
The show opened with a procession of denim-look bra tops, oversized vests, sliced jeans, shredded maxi dresses, distressed hot pants, baggy trench coats, and structured corsets. Drawing inspiration from his experiences at Y/Project, Glenn Martens has made it clear that Diesel is a brand that allows him to experiment with various forms of denim and explore how these concepts can be integrated with Diesel's existing archives.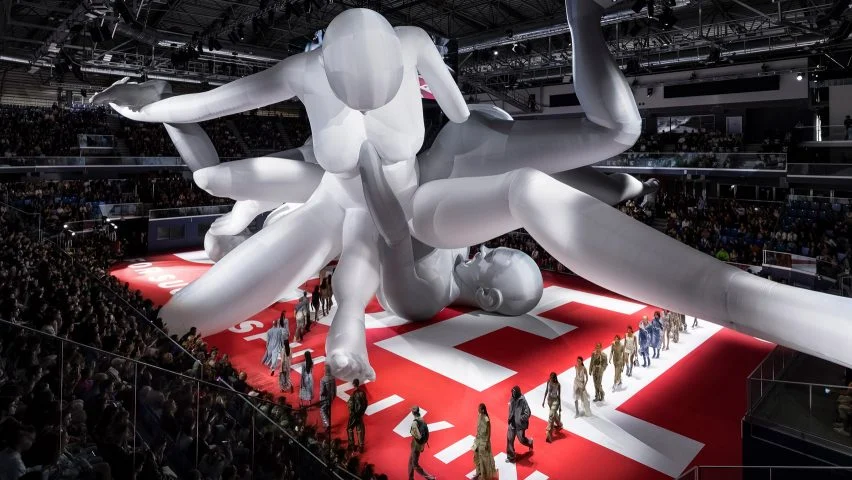 The models walk to the rhythm of an energetic techno soundtrack that fits the atmosphere. The collection, dubbed "Goblin Mode," featured plenty of denim and unexpected experimentation with materials such as knits, lace, and silk, which added a softer touch to the brand's traditionally edgy aesthetic. Martens also incorporated frayed denim edges into the designs, resulting in oversized fluffy outerwear and a playful mini-skirt and tube-top set. Metallic printed coats were designed to resemble a city skyline in chrome. Futuristic versions of distressed denim were also a prominent aspect of the collection, with innovative experimentation resulting in designs such as plastic-coated and waterproof denim, and slip-on denim heels with pocket detailing. The footwear also received a similar experimental treatment, with sporty soles added to strappy sandals and open-toed prototype sneakers. 
The Diesel phenomenon has been one of the more fascinating revivals in fashion. Martens is fully embracing the provocative future of fashion, and his fans are eagerly following along.
As Martens took a bow, scoring the hearts of the audience under the inflatable sculpture of intertwined figures, the crowd rose to their feet and cheered, recognizing the success of their favorite designer.
This collection further highlighted the 21st-century repositioning of Diesel and how the brand's creative vision is taking it to new heights under the direction of Martens.