If you haven't heard of her yet, make sure to remember the name Miss Sohee, a South Korean designer and protégé of Dolce & Gabbana, who is on the rise in the fashion industry. Her couture-inspired creations have caught the attention of superstars such as Naomi Campbell, Cardi B, and Bella Hadid, cementing her status as a rising star.
For her Paris Couture Week debut, Sohee Park chose a venue with a rich history – the Westin Paris-Vendôme, where Yves Saint Laurent once showcased his collections. This bold move marked the launch of her Miss Sohee brand, which made its first appearance in Milan with the support of Dolce & Gabbana. The designer expressed her excitement, calling it a "very meaningful moment" as Paris has always been on her bucket list.
Her Spring Collection was a display of intricate designs inspired by the change of seasons, featuring embroideries of birds, insects, and flowers on pieces like a fuchsia bustier gown with jet-bead fringe and an eau de nil floor-length coat with grand shoulders. These masterpieces were created by her talented 12-person team based in North London, taking several months to complete, but the results are worth the effort. It's easy to see why celebrities like Cardi B, Gemma Chan, and Lisa Manobal from Blackpink have been seen wearing her designs. Her designs, such as the dramatic shoulder ruffle on a purple gown, are red-carpet ready, while younger stars like Noah Cyrus have embraced her dip-waisted column skirts paired with a crop top or an embroidered mesh top
The designer's mastery of detail is mesmerizing, with sparkling crystals and meticulously crafted cutouts that seem as though they were carved by hand.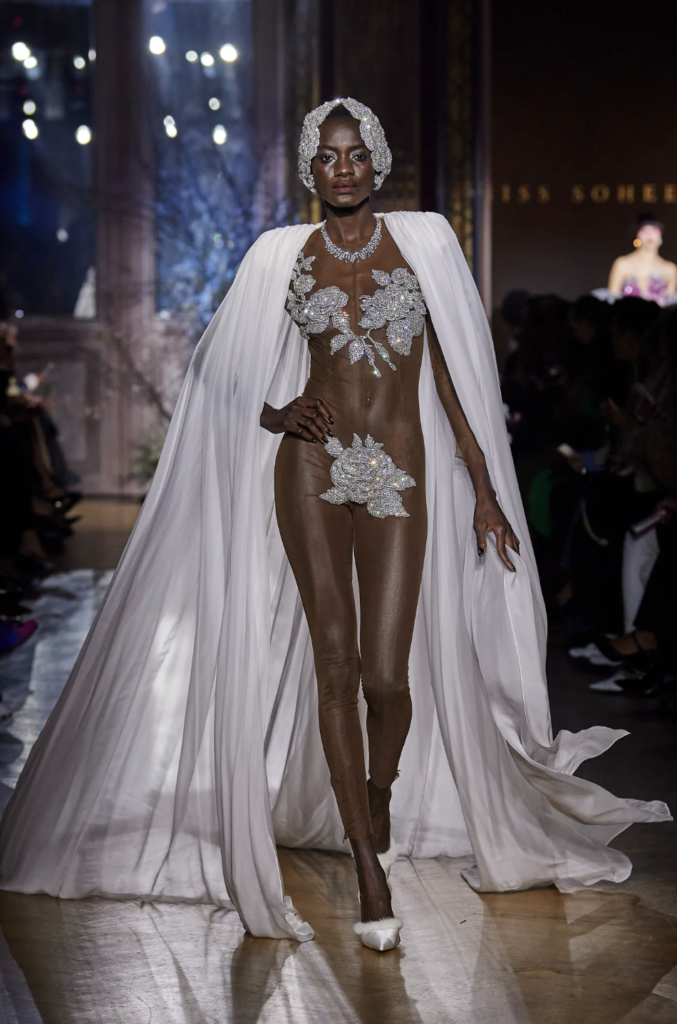 This results in a striking haute couture look that's impossible to ignore, solidifying her as a talent to watch.