George Hobeika, a renowned fashion brand known for its luxurious designs and exquisite craftsmanship, has been making waves in the industry for decades. Behind the brand's success is a dynamic duo – George Hobeika, the creative director, and his son, Jade Hoebeika, who has now taken on the role of co-creative director. In a recent interview with Aliyah Semillano, Jade Hoebeika shares his inspirations, challenges, and triumphs in creating a new collection that is not just about fashion, but also about overcoming fears and embracing strength.
When asked about his background and role in the brand, Jade proudly shares that he is the son of George Hobeika and is now working alongside his father to make their shared dream come true.
The conversation quickly turns to the latest collection, and Jade's eyes light up as he begins to talk about the inspiration behind it. "This collection is more than just beautiful designs," he says. "It's about mental health and facing our fears." Jade explains that the concept of the vampire, which is the main theme of the collection, represents a powerful woman with a strong attitude. He delves into the idea of having to confront our fears, dance with them, and appreciate ourselves despite the scary aspects of life.
Jade's inspiration for the collection comes from his own personal experiences. He candidly shares that he has faced negative emotions and challenges over the past two to three years, and this collection is a reflection of his journey to overcome them and become a better version of himself. "It's about simplifying everything and finding the courage and resilience to confront our fears head-on," he says. "Like imagining becoming a vampire, having to face a fear or a challenging situation in order to become fearless."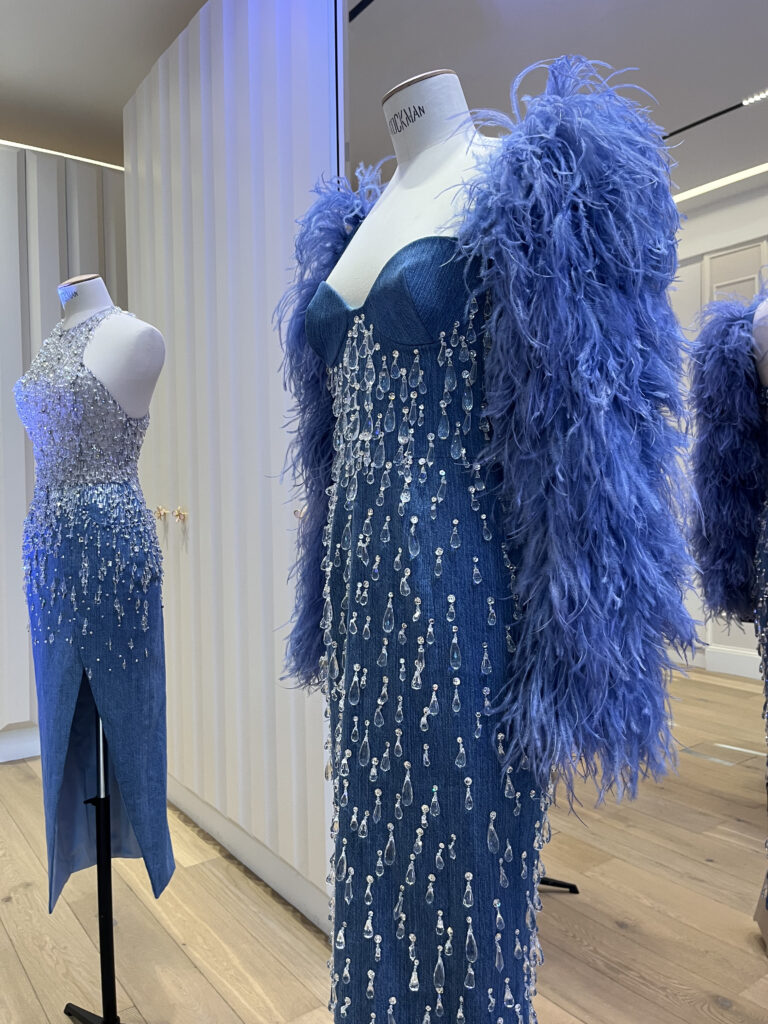 As Jade speaks passionately about the collection, it's clear that he has poured his heart and soul into it. He expresses gratitude to his team for their unwavering support and belief in his vision, as well as to his father, who has been a guiding force in his life and career.
When asked how he feels about the collection in this moment, Jade's eyes shine with pride. "I feel really good," he says. "I am incredibly proud and fulfilled to see this collection come to life. It's a beautiful feeling to turn a vision into reality."
As the interview draws to a close, Jade's passion and his commitment to overcoming challenges and embracing strength are evident. His journey as the co-creative director of George Hobeika is not just about creating beautiful designs, but also about inspiring others to confront their fears and become the best version of themselves.
Jade Hoebeika's latest collection for George Hobeika is not just a showcase of fashion, but a testament to the power of resilience and courage in the face of challenges. With his personal journey as inspiration, Jade has created a collection that goes beyond aesthetics and delves into the realm of mental health and self-empowerment. Through his creative vision and unwavering determination, Jade is leaving his mark on the fashion industry and inspiring others to confront their fears and embrace their inner strength. His collection is a true reflection of the resilience of fashion and the power of personal journey, making George Hobeika a brand that is not only synonymous with luxurious designs, but also with a message of empowerment and inspiration.